Our team
With our team of amazing, multi-disciplinary teachers, you're sure to enjoy your practice.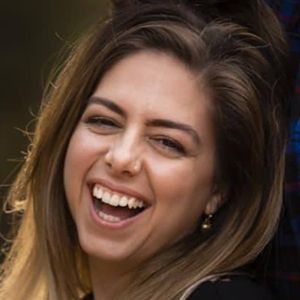 Mel
She/Her
Mel started practicing yoga in 2013, when she finally discovered a form of exercise she actually enjoyed! She gained a broad experience of various styles (including Iyengar, Hatha, and Modern Vinyasa) while practicing at studios in Sydney, Perth, New York and Indonesia.
She soon realised the benefits of yoga, not just for our bodies, but also our minds, and set a goal to open a yoga studio to share these benefits with others.
She completed her 200-hour Yoga Teacher Training with Stefan Camilleri Yoga, and has continued her quest for knowledge, becoming a Yoga Detour-Informed Teacher and undertaking training in Chair Yoga.
Mel has a strong focus on functional movement and safety when teaching her modern, fun, music-driven classes. She loves to create an atmosphere where her students are challenged and yet truly floating on air by the end of the class.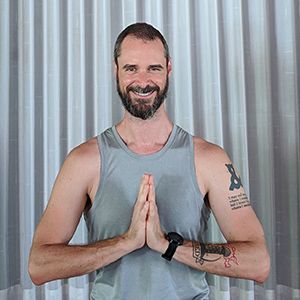 JB
He/Him
When Mel first asked JB to come along to a yoga class, he baulked. He worried he was too tall, too inflexible, too awkward, and people would laugh if he couldn't do some of the poses. He soon realised that no one is looking at you in a yoga class - everyone else is just trying not to fall over as well!
Yoga had such an incredibly positive impact on his mind and his body. He soon knew he wanted to become a teacher and share it with other people as well - especially those who might feel the same way he felt before his first class.
JB has a strong focus on safe, functional yoga, and supporting beginners to feel comfortable and confident in their practice. His unexpected quips will get you giggling, while his dulcet tones will lull you in to total relaxation.
JB has trained in alignment-based Vinyasa, Yin, and functional movement-based yoga.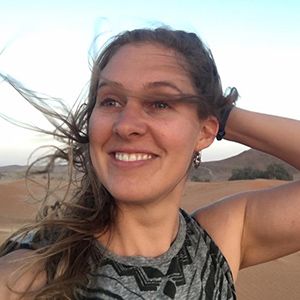 Claire
She/Her
Having grown up in the Perth Hills, Claire is excited to be able to share her passion for all things movement with the local community. With a background in dance and sports science, she found yoga to be a 'no-brainer' when it comes to movement that is good for the mind, body and soul.
After experiencing the benefits of yoga for herself, Claire completed her 200 hour yoga teacher training in Alignment Based Vinyasa and now enjoys introducing people to the benefits of yoga with interesting, feel-good flows in the beautiful surroundings of the hills at Stone's Throw Yoga.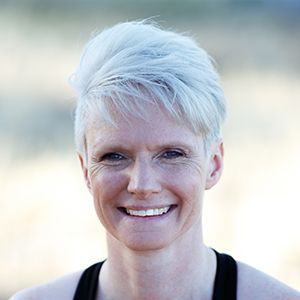 Kat
She/Her
Kat first discovered yoga at her local gym in 2008; it was a couple more years before she stumbled into a Bikram Yoga class in 2010 when she really found her yoga to be her passion.
Since graduating from Bikram's College of India, LA in 2011, Kat has taught in studios all around Australia and the UK. Since then Kat has expanded her teaching styles to Yin and Vinyasa over the past eight years.
Combining functional anatomy and modern alignment with her passions for energy healing, Kat aims to offer a unique experience within her yoga classes. Kat regularly lectures for yoga teacher training courses weaving her knowledge as a Reiki Master and intuitive healer into the realms of yoga. There is nothing Kat enjoys more than speaking about energy, Chakras, meridians and current energy forecasting in an easy to follow and down to earth way.
Kat is always keen to further her skills and personal practice through continued education to keep her work evolving and fresh. She truly believes we never stop learning and there is still more to discover.
Helen
She/Her
Helen fell in love with yoga at the age of six when her mother dragged her along to a class. Since that day she dreamed of becoming a Yoga teacher. She is a tea and gin drinking practitioner who lives in the Perth hills with her two teenage daughters. She loves to laugh (mostly at herself), and talk about philosophy, the meaning of life + death, far away galaxies, adventures, fears and failures. She's in love with life and hopes that after living a full and happy life she dies of laughter!
Helen is equal parts science and woo-woo, combining Neuroscience, Clinical Hypnotherapy, Reiki and Yoga. Helen specialises in trauma, anxiety and pain management and acknowledges Yoga as a powerful tool to assist in healing our mind, body and soul.
Through her therapeutic work Helen has observed the need for movement, mindfulness and pranayama (breathwork) to restore balance and engage our body's parasympathetic nervous system (rest and digest), bringing us into a state of wellness and wellbeing.
Kristine
She/Her
First finding Yoga in 2013 as a way to cope with chronic pain and spinal injuries, Yoga was the beginning of the physical healing process and soon became the catalyst to embrace a new way of living.
An avid storyteller at heart with an artistic, inquisitive nature, Kristine is known for her offerings that fuse inspired movement, Meditation, Pranayama and the stories of Yoga into an uplifting, moving, meditative story. Believing that Yoga is a practice to be felt and experienced, Each offering is lovingly crafted to offer the space for the practitioner to explore their unlimited potential and true self.
Completing training in Canada, Australia, India and Hong Kong, Kristine is a registered E-RYT 500 YACEP (Yoga Alliance continuing Education Provider). Based in Perth, Western Australia she has been Lead Facilitator for 200hr YTT's and continues to offer workshops, retreats and continuing education courses on a variety of Yogic topics
Considering herself first and foremost a forever student, Kristine continues her studies under the guidance of Philosophy teacher Sudhir Rishi, Creature Yoga, Myofascia studies through Anatomy Trains and continues to integrate the many aspects of these ancient teachings into modern day life.
Lauren
She/Her
After being challenged by health circumstances, Lauren longed to feel more empowered in her body. She was deeply moved by the practice and its ability to cultivate presence and compassion, regardless of how she arrived on her mat.
Forever a student, she's completed qualifications in Alignment Based Vinyasa, Yin, Prenatal, Postnatal, and Advanced Yoga Training in Trauma, Anxiety, Depression and Body Image.
Her classes are a container of safety for you to explore whatever you need. The delivery of Lauren's classes are heart-centred, playful, creative, and music driven; while also being safe, functional, and informative. She doesn't take herself too seriously, and loves to laugh!
She admits it's a dream come true to build genuine connections with communities. Her mission is to provide tools to soften your journey, through various healing modalities that support healing from within (including yoga, meditation, breath work, reiki, and more).
Jacqui
She/Her
Having spent many years in the corporate world, Jacqui began her yoga practice as a way to destress and restore. After experiencing yoga's benefits to her physical, mental and emotional health, she felt the need to learn more.
Being of Indian ancestry, she was also drawn to the ancient teachings as a way of connecting to her heritage. Through diving into an exploration of yoga, Jacqui works towards the lifelong goal of living the philosophies of yoga on and off the mat.
Jacqui has completed trainings in Vinyasa, Yin and Myofascial Release, and has most recently completed her Meditation Teacher Training.
With a focus on light-heartedness, accessibility and inclusivity, Jacqui aims to create a welcoming environment where her students can allow themselves the time and space they need to reset, restore and cultivate calmness of body and mind.
---