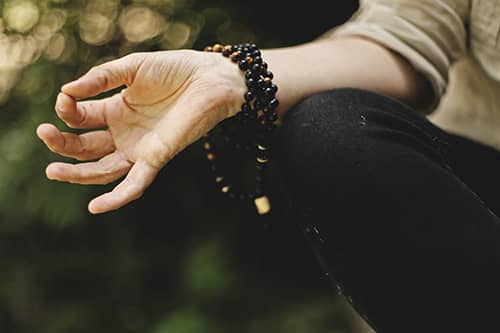 Om Chanting
According to the Hindu scriptures, Om is the first sound of the universe, and connects all living beings to nature and each other.
Om Chanting can be a beautifully meditative practice. The chanting provides a focal point for the busy monkey mind, allowing you to sink deeper into the practice and meditation.
Studies have found that chanting can decrease stress, anxiety and depressive symptoms, as well as increase positive mood, feelings of relaxation and focused attention. Chanting with others is a wonderful way to share connection, community, and a love for mother earth.
Om Chanting is not a faith-based practice, but all faiths are welcomed, as well as those who have no interest in spirituality.
This event will begin with an introduction, will be followed by the repeated group chanting of Om (at your own pace) for approximately 45 minutes, and will finish with the sharing of our experiences.
The only requirement is that you must be able to sit, supported by props, for the circle time. All studio props will be available for use, and please feel free to bring anything from home that will make you more comfortable.
This is a community event and is free for all attendees - but places are limited, so please ensure you book your spot.
About your facilitator
Tarnyia has a passion for chanting and meditation, and has been practising weekly Om Chanting for a number of years. She feels like she was called to this beautiful practice - something in her just HAD to 'Om'!
When all the elements are in agreement, opportunities arise. Tarn was provided with the chance to train as an Om Chanting facilitator and now loves to share this wonderful practice with others.
---