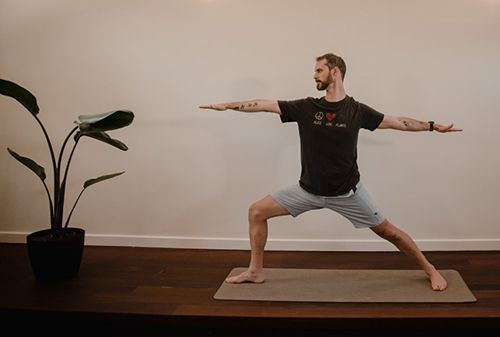 No-Bullshit Yoga for Men
3x Saturdays, 10:45am - 12 noon
29th Jan, 5th & 12th Feb
$65 (concession $55) for the 3 sessions
If you identify as a man, you're welcome to join this workshop series.
Those that practice yoga understand the benefits of a regular yoga practice.
Improved flexibility, strength, and posture
Better all-round fitness
More energy
Less stress
Better concentration
A great complement to other sports such as running, cycling and martial arts
And let's not forget increased happiness.
So, given all these amazing benefits to take advantage of, why do we see so few men in yoga classes?
"Yoga's for girls!"
Yeah, that's... bullshit.
Yoga has been around for over 5,000 years, and has always been practiced by men. More recently in the western world, yoga has become dominated by ultra-bendy, super-skinny Lululemon-clad 18-year-old women.
Thankfully, we're heading back towards equilibrium. Now, most yoga classes have gender diversity, and more and more people are embracing the myriad benefits that yoga offers.
The truth is that yoga brings benefits to every body, no matter your gender, age or physical ability.
"I'm not flexible enough!"
Many men hesitate to start yoga because they're not 'flexible enough' - but this is a common misconception for everyone new to yoga.
One of the main physical benefits of yoga is increasing and improving flexibility, mobility and strength, so these are not prerequisites for a yoga practice. You don't have to be flexible and strong beforehand. It's the same logic as thinking you have to already be really strong to start lifting weights.
Yoga will help improve your balance and flexibility and, of course, strengthen your muscles during the process as well.
"Other students will laugh at me!"
Here's a reality check for you - other students won't be watching your practise. They're focussed on their own experience, trying to get the most out of the poses and transitions they're working through, and often, just trying not to fall over.
Take it from me, a man who has spent most of his life being remarkably uncoordinated. I've never once felt judged by others since I started practising yoga several years ago.
In fact, most of your fellow practitioners will be excited to see a newbie joining their studio and beginning to experience the benefits of yoga!
"I don't know what I'm doing! WTF is a 'down dog?!'"
I get it. And don't worry - you're not alone. Starting something new, whatever it is, can be scary. And if you don't have any context around what you're supposed to be doing, it can be downright bewildering.
That's why we've put together the No-Bullshit Yoga for Men program.
How does it work?
The No-Bullshit program comprises three 75-minute workshops, held over three Saturday mornings at Stone's Throw Yoga in Mundaring.
These classes are for men only, and are run by me, JB - a 6'3" friendly giant, who also happens to be a yoga teacher. The program is aimed at beginners of any age (or current students that want a refresher course) that are looking to explore yoga and find out if it's for them. The workshop series is capped at 15 students to ensure that you'll have plenty of opportunity to effectively learn and practise.
The goal of the workshops is to give you a solid understanding of Vinyasa yoga fundamentals, so that you can walk into any of our yoga classes and feel comfortable in your practice.
We'll work through warmups, sun salutations, common sequences, and spend time exploring the poses you're most likely to experience in a class. We'll also dive into breathwork, mindfulness and meditation practices, as these are key aspects of modern yoga.
We won't spend time on chakras, meridians, and other more ethereal aspects of yoga; however these have their own merits and we encourage you to explore these if they call to you.
What to expect a focus on:
Postures (Asana), movement and safe transitions
Breathwork (Pranayama), mindfulness and meditation
Confidence to attend classes
What we won't be covering:
Chakras
Meridians
Where to get the best price on Lululemon yoga pants
What does it cost?
The three 75-minute workshops are yours for $65. As the program content is spread across the three sessions, you will need to come along to all three; you can't book just one of the workshops.
Concession pricing is available ($55) for those with a full-time student card, pensioner concession card, or health care card. Please create an account in our booking system, then email hello@stonesthrowyoga.com.au with a copy of your card to access this pricing.
I'm in! What do I need to wear/bring/etc?
Great! You can book in online here.
You can also check out our Frequently Asked Questions and have a look through the information there. If you still have questions, hit us up at hello@stonesthrowyoga.com.au.
Cancellations: Purchases are final and there are no refunds. Your ticket may be transferred to a person of your choice (they will need to create an account in our booking system). Email hello@stonesthrowyoga.com.au to notify of your cancellation or transfer.
---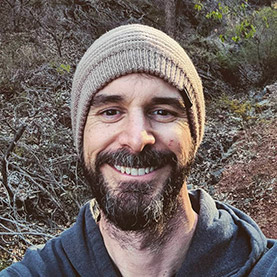 About JB
When first asked to come along to a yoga class, JB baulked. He worried he was too tall, too inflexible, too awkward, and people would laugh if he couldn't do some of the poses. He soon realised that no one is looking at you in a yoga class - everyone else is just trying not to fall over as well!
Yoga had such an incredibly positive impact on his mind and his body. He soon knew he wanted to become a teacher and share it with other people as well - especially those who might feel the same way he felt before his first class.
JB has a strong focus on safe, functional yoga, and supporting beginners to feel comfortable and confident in their practice. His unexpected quips will get you giggling, while his dulcet tones will lull you in to total relaxation.
JB has trained in alignment-based Vinyasa, Yin, and functional movement-based yoga.
---